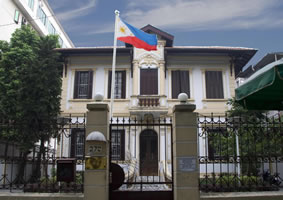 About the Philippine Embassy
The Embassy first opened on 20 August 1977, after the diplomatic relations between the Philippines and Vietnam were established on 12 July 1976. Ambassador Laura Q. Del Rosario is the current Chief of Mission of the Embassy. She assumed her post in May 2007.


About the Philippine Consulate General in Ho Chi Minh City
The Philippine Honorary Consulate General in HCMC reopened in August 2006 with the appointment of Mr. Gerry T. Paglinawan as Honorary Consul General. The Philippine Honorary Consulate General extends consular services to Filipino nationals residing/working in Ho Chi Minh City.

FAST FACTS ABOUT THE PHILIPPINES
Full Name
Republic of the Philippines
Capital
Manila
Government
Republic
Land Area
300,000 sq. km
Population
92,681,453 (July 2008 est. CIA World Factbook)
People
The vast majority of Filipinos are descendants of Malays, Chinese, and Muslim Minorities. More than 100 cultural minority groups are scattered throughout the country.
Language
Filipino and English, with 8 other major languages and 87 dialects
Religion
Predominantly Roman Catholic. Others: Muslim, Protestant, Evangelical, Iglesia ni Kristo, Aglipayan
Currency
Philippine Peso (Php) = 100 centavos. Bank notes in P10, P20, P50, P100, P200, P500, and P1,000
Geography
The Philippines comprises an archipelago of some 7,107 islands located off Southeast Asia, between the Philippine Sea on the east and South China Sea on the west, east of Vietnam, and north of Sabah and Borneo. The major islands are Luzon in the north, the Visayan Islands in the middle, and Mindanao in the south.
Climate
March to May is hot and dry. June to October is rainy. November to February is cool. Average temperatures: 78F or 32C. Humidity: 77%
Time
GMT + 8 hours
Internet Domain
.ph
International Dialing Code
+63